Hydraulic Punching Machine
Manager: Anson
Mail: anson@sinokd.com
Mobile: +8618201849494
Manager: John
Mail: john@sinokd.com
Mobile: +8613961086166
Add: No. 251, Xinshi Road, Hongkou District, Shanghai, China. 200080
Shear Machine
Shearing Machine / Cutting Machine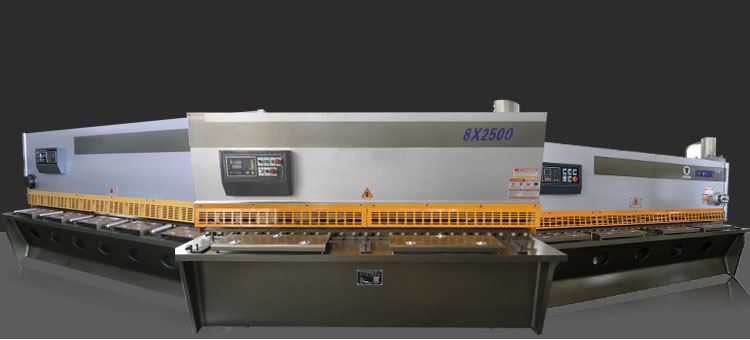 Brief Introduction
1, Sheet plate welded structure is adopted, with hydraulic transmission and accumulator return,
typical of an easy operation, reliable performance, and nice appearance.
2, Indication by indicator is provided for adjustment of blade clearance, for a handy
and prompt adjustment.
3, Alignment device with lighting and control device for shearing stoke bar and to reduce frictional resistance.
4, Rolling material support ball is provided, to minimize fish tail with sheet bar and to
reduce frictional resistance.
5, Rear stopper is fitted with electric adjustment and manual adjustment devices, and
digital device is available for display if size of stopper and times of shearing
6, Rear stopper is fitted with coder and digital display system, So that the position of
rear stopper is displayed more accurately, thus to further enhance the shearing
precision if this machine.
Specifications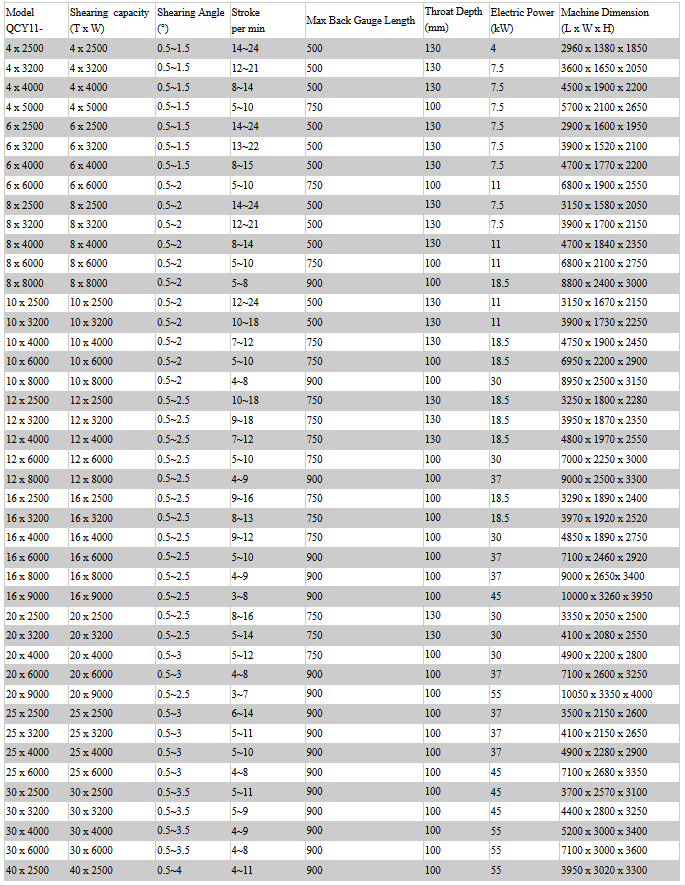 Product Display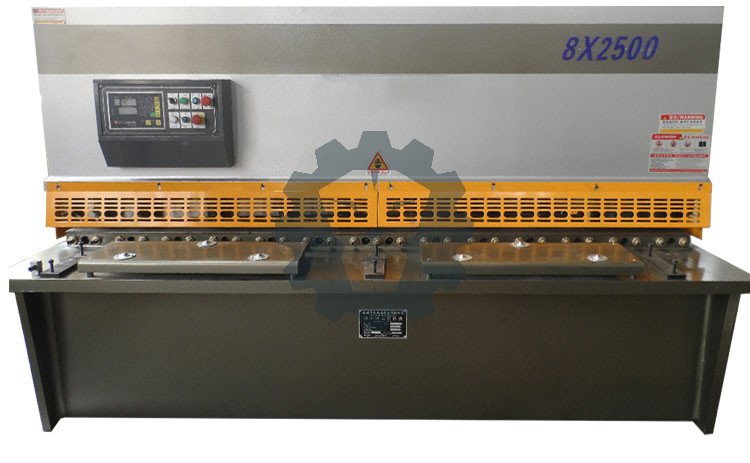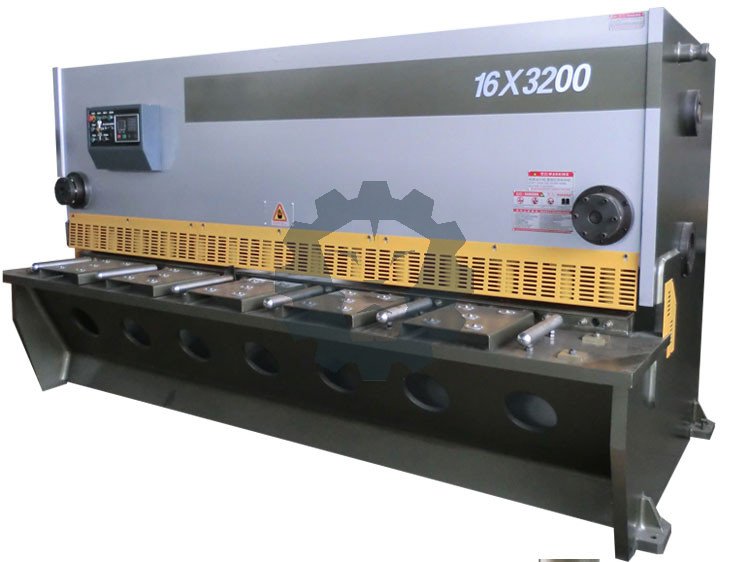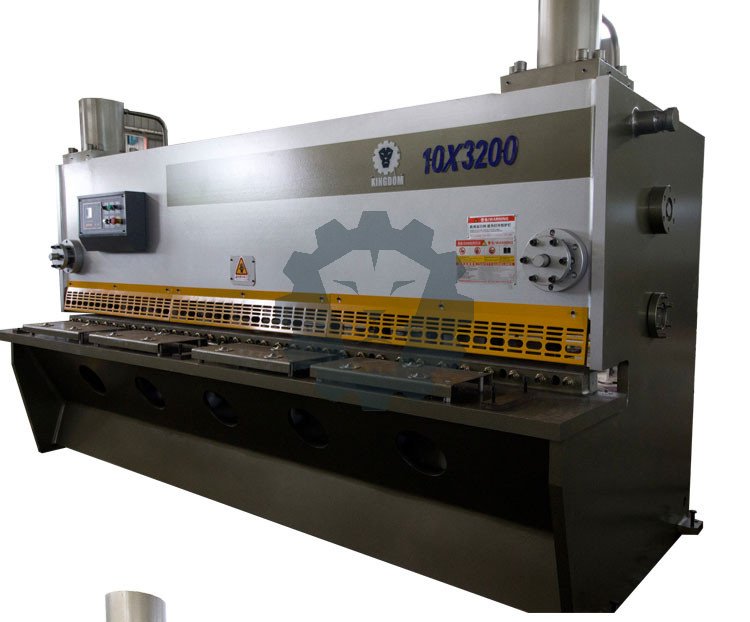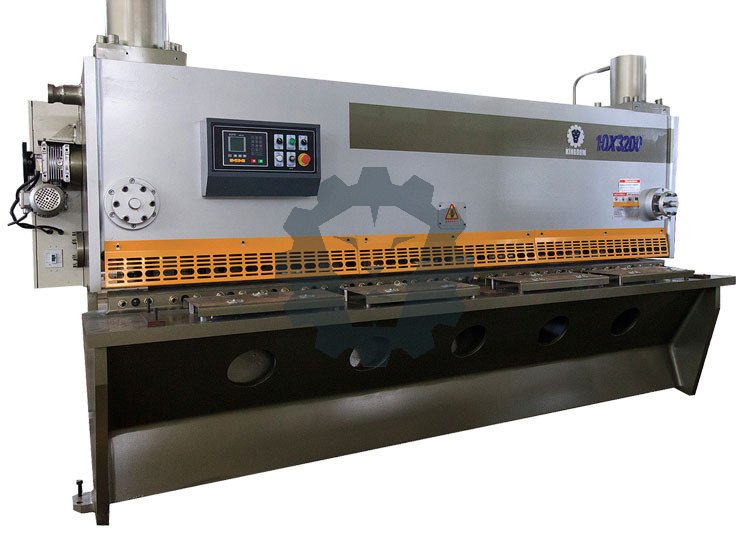 Main Features

1.Motor: Siemens, Germany
2. Main Electric Components: Schneider, French
3. Seal in the Cylinders: NOK, Japan
4. Valve: Atos, Italy
5. Pump: Sumitomo, Japan
6. Wiring Terminal Block: WEIDMULLER, Germany
7. NC Control System: Estun E21, China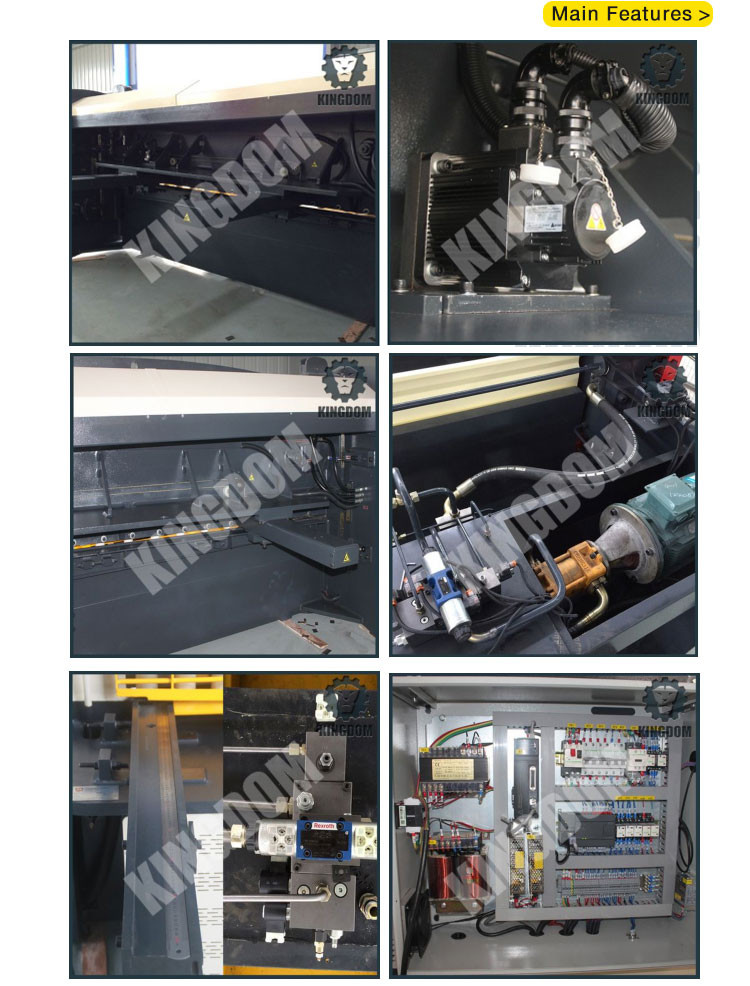 Outer Construction

1.Using UG analysis(finite element analysis)Optimize the deign through the computer's assistant.
2.The whole machine is in sheet plate welded structure, with internal stress eliminated by vibration aging
technology, high strength and good rigidity of machine.
3.Mechanical stopper in oil cylinder, typical of high feedback precision for position of gliding block ,accurate
and stable operation, good synchronizing performance ,and high repeated positioning precision of gliding block.
4.With Germany skill to avoid inner reaction
5.The whole frame remove rust by sand paper, with antirust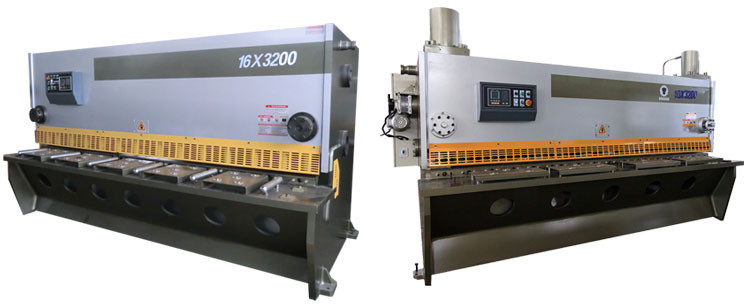 Training After-sales Service

1. Technical documents
All labels on machines and lay-out drawings, Electrical diagram, Operation Manual, will be in English.
The seller should send all necessary files to the buyer since the third week since project execution.
All documents in hard copies should be also shipped with machines together.
2. Arrangement for inspection, installation and testing work
a. After all machines are delivered to customer's factory; Buyer is responsible for all preparation work,
e.g. electricity supply, water supply, labors and cranes, etc.
b. The buyer will prepare for visa application for their engineers, who are responsible for guide of
machine installation and testing at the Buyer's factory.
c. The Buyer will buy the round-trip air ticket for Engineer if visa application is approved.
The buyer is also responsible to bear expenses generated, e.g. visa formalities, meals,
accommodation and allowance of USD80 per day for each engineer.
d. Engineer will give free training lessons to labors in buyer's factory.
3. Quantity and quality guarantee
a. Quantity/Quality Discrepancy to destination port during transportation
In case of quality/quantity discrepancy to destination port in transportation, the buyer should file
claim within 30 days after the arrival of the goods at port of destination. The seller will not be responsible for
any discrepancy of the goods caused by shipping company and other transportation organization and/or post
office.
b. Guarantee period and after-sales services: 13 months since date of bill of lading
During this guarantee period, the seller will provide spare parts without any charge in case of quality
discrepancy caused by us. If the malfunctions are caused by your incorrect operations, the seller will
provide the buyer spare parts at cost price.
c. Long-term service
The seller will charge the buyer cost price of spare parts beyond one year and provide long-term technical guide.
Advantage

1.OEM
Customize color and function
2.After sales
Our engineer can go to your factory for installation and showing operation details on condition of you provide the round-trip air tickets, visa formalities, food and accommodation. In turn, your engineers can come to our factory
for learning the installation, operation and maintenance for free.
3.Good price
Reasonable price can meet your budget
4.Quality
Seal in the Cylinders from NOK, Japan;Electrical components from France Schneider;Valve from Germany
Rexroth;Pump from Japan Sumitomo.Our product quality guarantee period is 13 months from B/L date. During
guarantee period, we will provide spare parts without any charge in case of quality discrepancy caused by us.
If the malfunctions are caused by customers' incorrect operations, we will provide customers spare parts at cost price.
We also can offer flexible extended warranties according to the actual situation.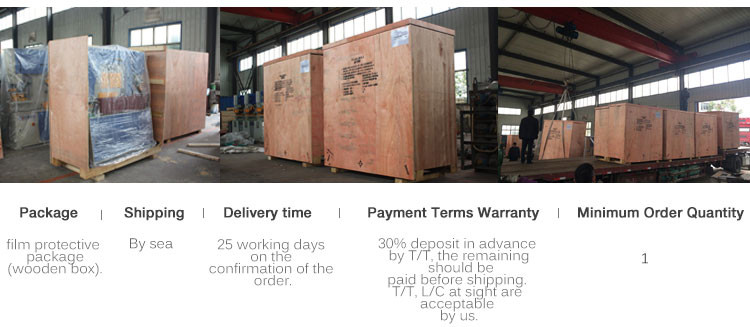 FAQ
Why Choose Us?
1. We will run the machine for a few days, and use your materials to do the test. Only guarantee the machine shows best performance, and then we will ship out.
2. Our elite teams can provide you professional, customized, and all-round services around the clock. If you need any help, contact us by WHATSAPP, Skype, Email or Telephone.
How can we provide you efficient services (metal processing solution)?
There are Three Steps as following:
1. Gather your requirements based on your real working situation.
2. Analyze your information and provide our feedback.
3. Offer options based on your specific needs. For instance, reg. standard products, we can offer professional recommendations; reg. non-standard products, we can offer professional designing.
How to maintenance the machine?
Every shift has to fill in lubrication oil and machine oil.